Chicago Blues Hall Of Fame
Band Leaders & Songwriters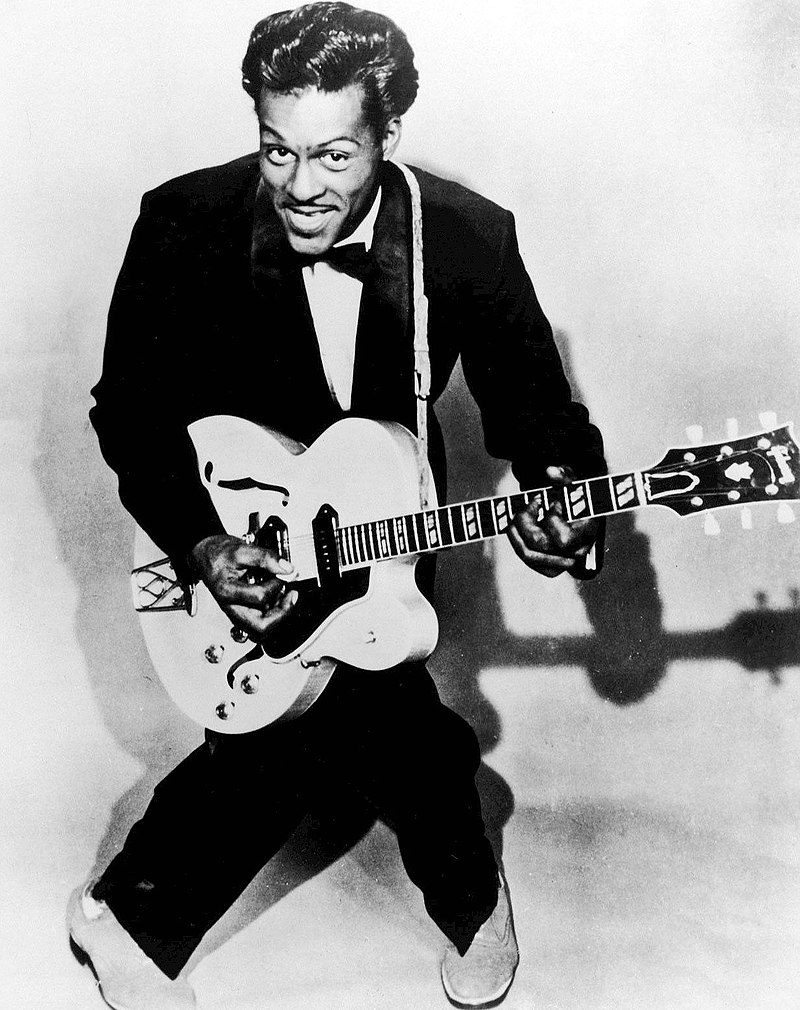 Charles Edward Anderson Berry (October 18, 1926 – March 18, 2017) was an American singer, songwriter and guitarist, who pioneered rock and roll. Nicknamed the "Father of Rock and Roll", he refined and developed elements of rhythm and blues into distinctive rock and roll standards such as "Maybellene" (1955), "Roll Over Beethoven" (1956), "Rock and Roll Music" (1957) and "Johnny B. Goode" (1958).
Writing lyrics that focused on teen life, Berry developed a musical style that included both guitar solos and showmanship, which became a major influence on subsequent rock music.
Berry's break came when he traveled to Chicago in May 1955 and met Muddy Waters, who suggested he contact Leonard Chess, of Chess Records. With Chess, he recorded "Maybellene". It sold over a million copies, reaching number one on Billboard magazine's rhythm and blues chart.
Berry was among the first musicians to be inducted into the Rock and Roll Hall of Fame upon its opening in 1986.  He was cited for having "laid the groundwork for, not only a rock and roll sound, but a rock and roll stance."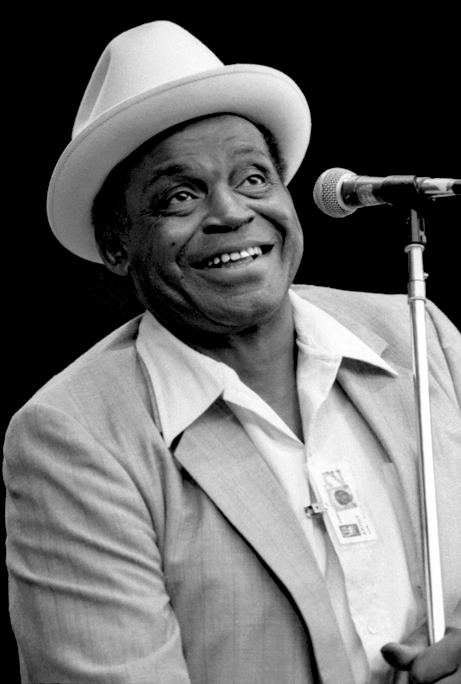 William James Dixon (July 1, 1915 – January 29, 1992) was an American blues musician, vocalist, songwriter, arranger and record producer. He was proficient in playing both the upright bass and the guitar, and sang with a distinctive voice, However, he is best known as one of the most prolific songwriters of his time. Next to Muddy Waters, Dixon is recognized as the most influential musician shaping the post–World War II sound of the Chicago blues.
Dixon's songs have been recorded by countless musicians  and bands. A short list of his most famous compositions includes: "Hoochie Coochie Man", "I Just Want to Make Love to You", "Little Red Rooster", "My Babe", "Spoonful", and "You Can't Judge a Book by the Cover". These songs were written from 1950 to 1965, and were performed by Muddy Waters, Howlin' Wolf, Little Walter, and Bo Diddley,  influencing the next  generation of musicians worldwide.
Dixon was an important link between the blues and rock and roll, working with Chuck Berry and Bo Diddley in the late 1950s. In the 1960s, his songs were adapted by numerous rock artists. He received a Grammy Award and was inducted into the Blues Hall of Fame, the Rock and Roll Hall of Fame, and the Songwriters Hall of Fame.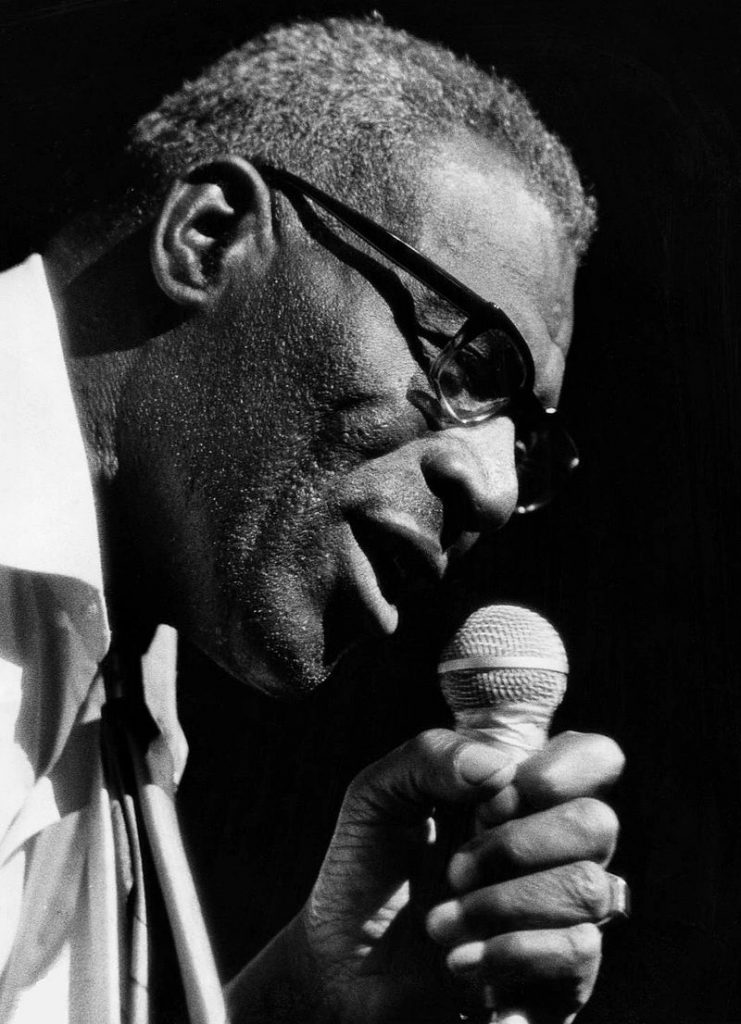 Chester Arthur Burnett (June 10, 1910 – January 10, 1976), known professionally as Howlin' Wolf, was a Chicago blues singer, guitarist, and harmonica player. Originally from Mississippi, he moved to Chicago in adulthood and became highly successful, while forming a professional rivalry with fellow bluesman Muddy Waters. With a booming voice and an imposing physical presence, he is one of the best-known Chicago blues artists.
Burnett tried to emulate country singer Jimmie Rodgers "blue yodel" but found that his efforts sounded more like a growl or a howl: "I couldn't do no yodelin', so I turned to howlin'. And it's done me just fine," he said.
During the blues revival in the 1950s and 1960s, black blues musicians found a new audience among white youths, and Howlin' Wolf was among the first to capitalize on it. He toured Europe in 1964 as part of the American Folk Blues Festival. In 1965, he appeared on the popular television program Shindig! at the insistence of the Rolling Stones, whose recording of "Little Red Rooster" had reached number one in the UK in 1964.
Several of his songs, including "Smokestack Lightnin'", "Killing Floor" and "Spoonful", have become blues and blues rock standards. In 2011, Rolling Stone magazine ranked him number 54 on its list of the "100 Greatest Artists of All Time".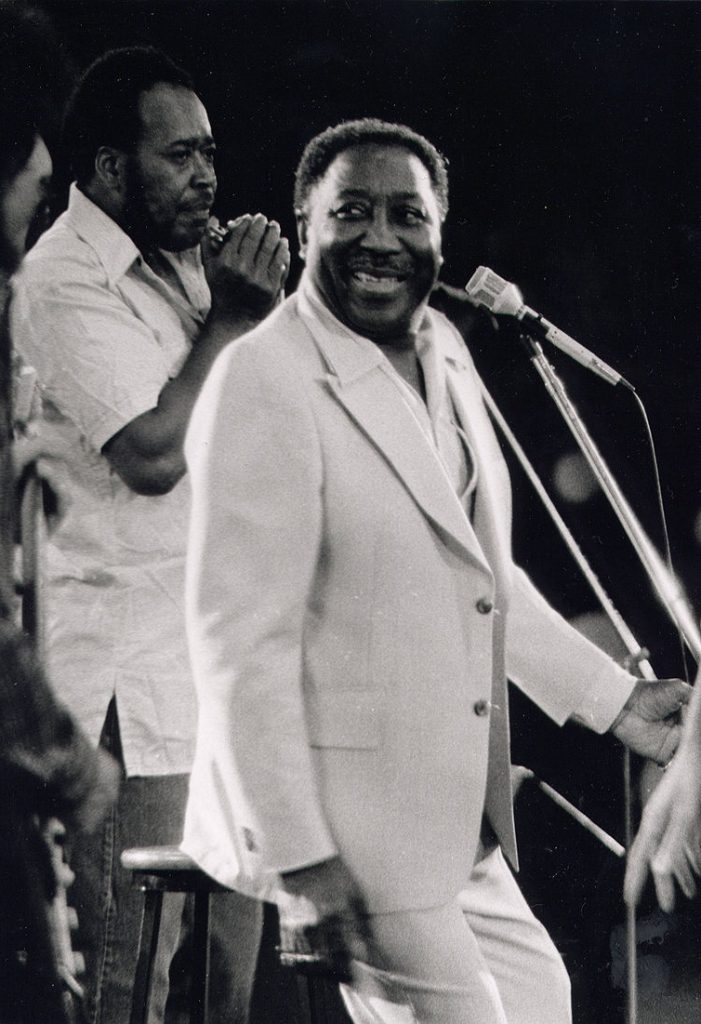 McKinley Morganfield (April 4, 1913 – April 30, 1983), known professionally as Muddy Waters, was an American blues singer-songwriter and musician who was an important figure in the post-war blues scene, and is often cited as the "father of modern Chicago blues".  His style of playing has been described as "raining down Delta beatitude".
Muddy Waters grew up on Stovall plantation near Clarksdale, Mississippi, and by age 17 was playing the guitar and the harmonica, emulating  local blues artists Son House and Robert Johnson. He was recorded in Mississippi by Alan Lomax for the Library of Congress in 1941. In 1943, he moved to Chicago to become a full-time professional musician. In 1946, he recorded his first records for Columbia Records and then for Aristocrat Records, a newly formed label run by Leonard and Phil Chess.
In the early 1950s, Muddy Waters and his band recorded several blues classics, some with the bassist and songwriter Willie Dixon. These songs included "Hoochie Coochie Man," "I Just Want to Make Love to You" and "I'm Ready". In 1958, he traveled to England, participating in the resurgence of Blues in the UK. His performance at the Newport Jazz Festival in 1960 was recorded and released as his first live album, At Newport 1960.
Muddy Waters' music has influenced various American music genres, including rock and roll.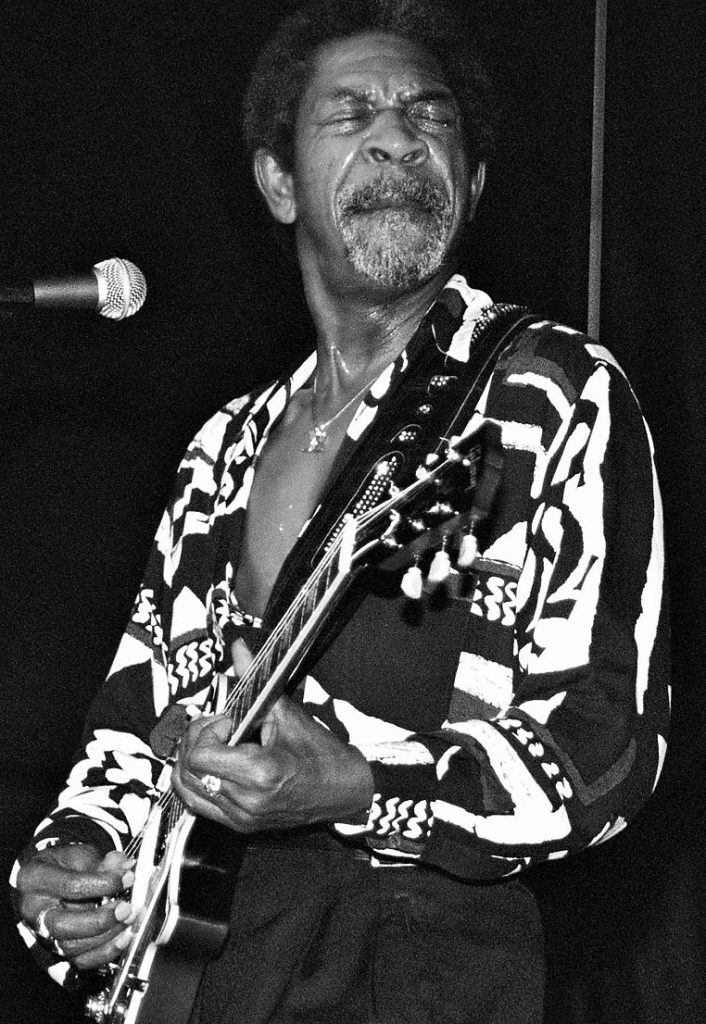 Luther Allison (August 17, 1939 – August 12, 1997)  an American blues guitarist was born in Arkansas. Allison was interested in music as a child and during the late 1940s toured in a family gospel group called The Southern Travelers.  He moved with his family to Chicago in 1951 and attended Farragut High School where he was a classmate of Muddy Waters' son. He taught himself guitar and began listening to blues extensively. Three years later he dropped out of school and began hanging around outside blues nightclubs in hope of being invited to perform.
Allison played with the bands of Howlin' Wolf and Freddie King, taking over King's band when King toured nationally.  He worked with Jimmy Dawkins, Magic Sam, Otis Rush, and also backed James Cotton.
Allison was known for his powerful concert performances, lengthy soulful guitar solos and crowd walking.  In addition to recording, he played the bar circuit in the United States and spent eight months of the year in Europe at high-profile venues, including the Montreux Jazz Festival.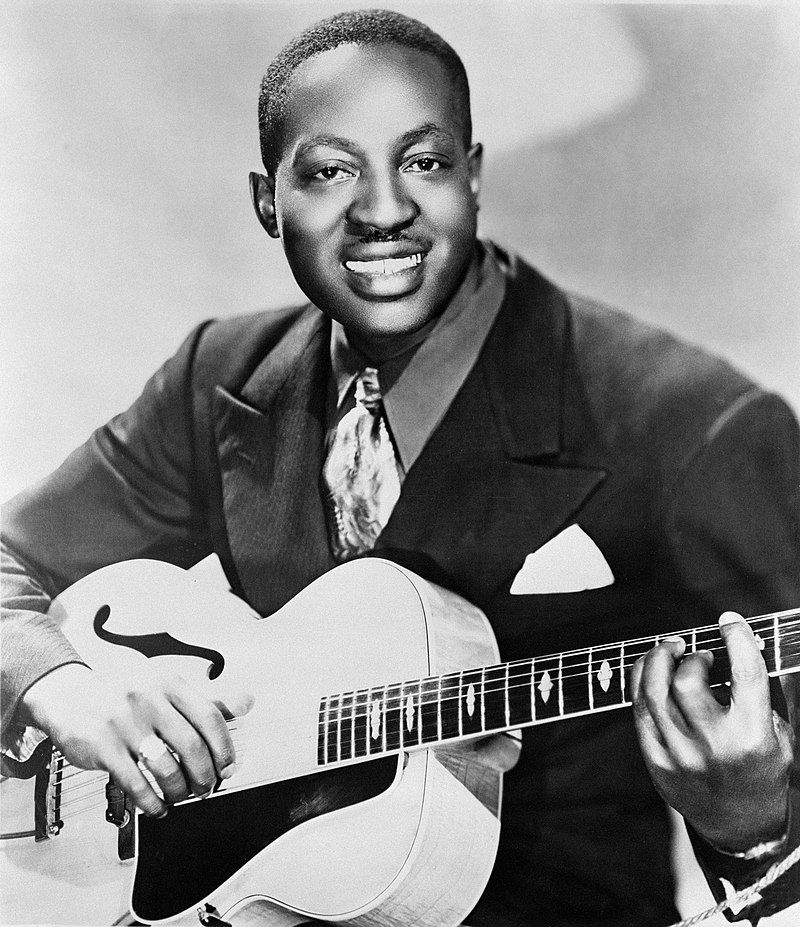 Big Bill Broonzy (born Lee Conley Bradley; June 26, 1903 – August 14, 1958) was an American blues singer, songwriter and guitarist. His career began in the 1920s, when he played country blues to mostly African-American audiences. Throughout the 1930s and 1940s, Broonzy successfully navigated a transition in style to urban blues, which was popular with working-class African-American audiences. In the 1950s a return to his traditional folk-blues roots made him one of the leading figures of the emerging American folk music revival and an international star. His long and varied career marks him as one of the key figures in the development of blues music in the 20th century.
Broonzy expanded his work during the 1940s as he honed his songwriting skills, which showed a knack for appealing to his more sophisticated city audience as well as people that shared his country roots. His work in this period shows he performed across a wider musical spectrum than almost any other bluesman before or since, including in his repertoire ragtime, hokum blues, country blues, urban blues, jazz-tinged songs, folk songs and spirituals. After World War II, Broonzy recorded songs that were the bridge that allowed many younger musicians to cross over to the future of the blues: the electric blues of postwar Chicago.
Broonzy copyrighted more than 300 songs during his lifetime, including both adaptations of traditional folk songs and original blues songs. As a blues composer, he was unique in writing songs that reflected his rural-to-urban experiences.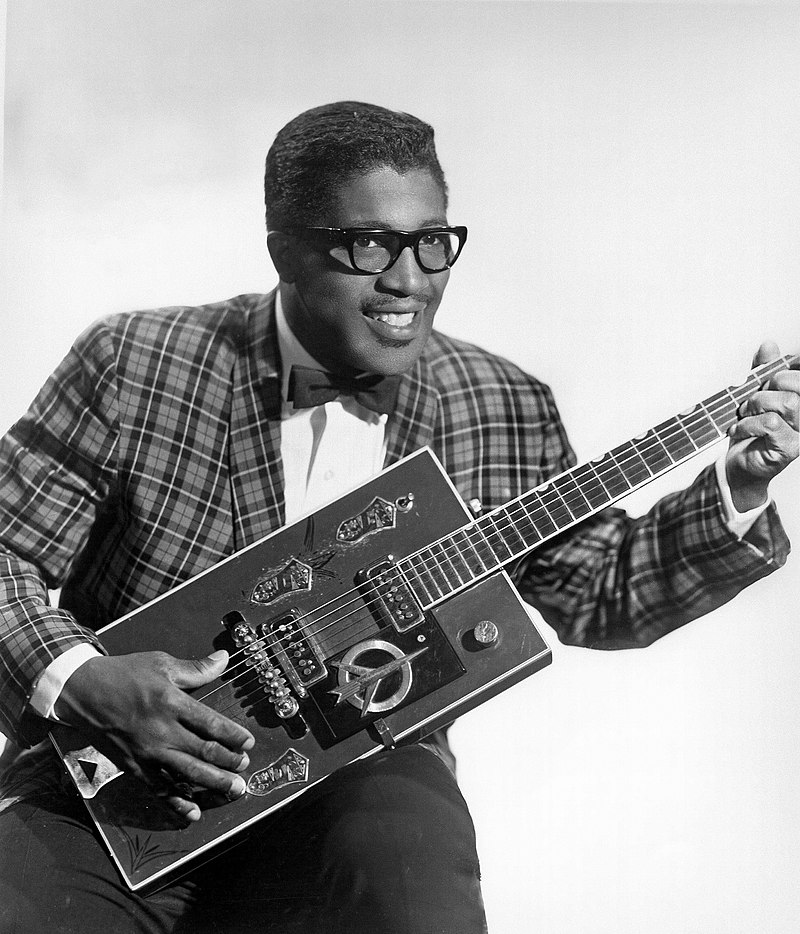 Ellas McDaniel (born Ellas Bates; December 30, 1928 – June 2, 2008), known as Bo Diddley, was an American singer, guitarist, songwriter and music producer who played a key role in the transition from  the blues to rock and roll. He influenced many artists, including Buddy Holly, Elvis Presley, the Beatles,  the Rolling Stones,  the  Animals, George Thorogood, and the Clash.
He was an active member of Chicago's Ebenezer Baptist Church, where he studied the trombone and the violin, becoming so proficient on the violin that the musical director invited him to join the orchestra, in which he played until he was 18. However, he was more interested in the joyful, rhythmic music he heard at a local Pentecostal Church and took up the guitar.  His first recordings were based on that frenetic church music.
Inspired by a John Lee Hooker performance, Diddley supplemented his income as a carpenter and mechanic by playing on street corners with friends, including Jerome Green, in the Hipsters band, later renamed the Langley Avenue Jive Cats. In the summer of 1943 and 1944, he played at the Maxwell Street market in a band with Earl Hooker.
His use of African rhythms and a signature beat, a simple five- accent hambone rhythm, is a cornerstone of hip hop, rock, and pop music. In recognition of his achievements, he was  inducted into the Rock and Roll Hall of Fame in 1987, the Blues Hall of Fame in 2003, and the Rhythm and Blues Music Hall of Fame in 2017. He received a Lifetime Achievement Award from the Rhythm and Blues Foundation, as well as the Grammy Lifetime Achievement Award. Diddley is also recognized for his technical innovations, including his use of tremolo and reverb effects to enhance the sound of his distinctive rectangular-shaped guitar.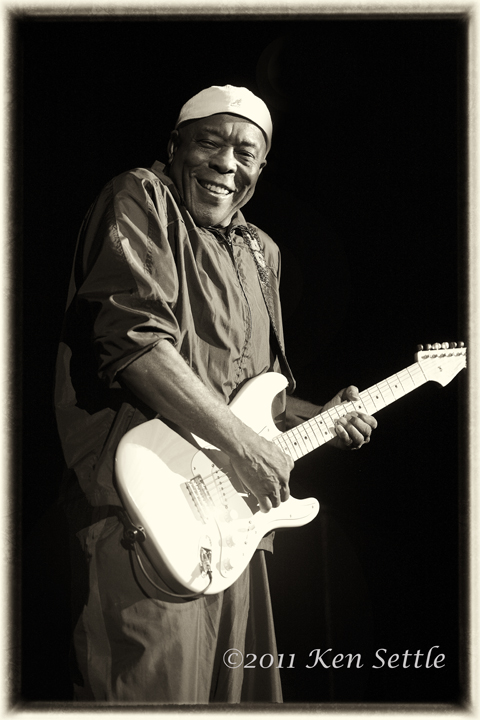 George "Buddy" Guy (born July 30, 1936) is an American blues guitarist and singer. He is an exponent of Chicago blues who has influenced generations of guitarists including Eric Clapton, Jimi Hendrix, Jimmy Page, Keith Richards, Stevie Ray Vaughan, Jeff Beck, Gary Clark Jr. and John Mayer. In the 1960s, Guy played with Muddy Waters as a session guitarist at Chess Records and began a musical partnership with blues harp virtuoso Junior Wells.
Guy won eight Grammy Awards, a Lifetime Achievement Award, National Medal of Arts and Kennedy Center Honors. Guy was ranked 23rd in Rolling Stone magazine's "100 Greatest Guitarists of All Time".  His song "Stone Crazy" was ranked 78th in the Rolling Stone list of the "100 Greatest Guitar Songs of All Time". Eric Clapton once described him as "the best guitar player alive". In 1999, Guy wrote the book Damn Right I've Got the Blues, with Donald Wilcock. His autobiography, When I Left Home: My Story, was published in 2012.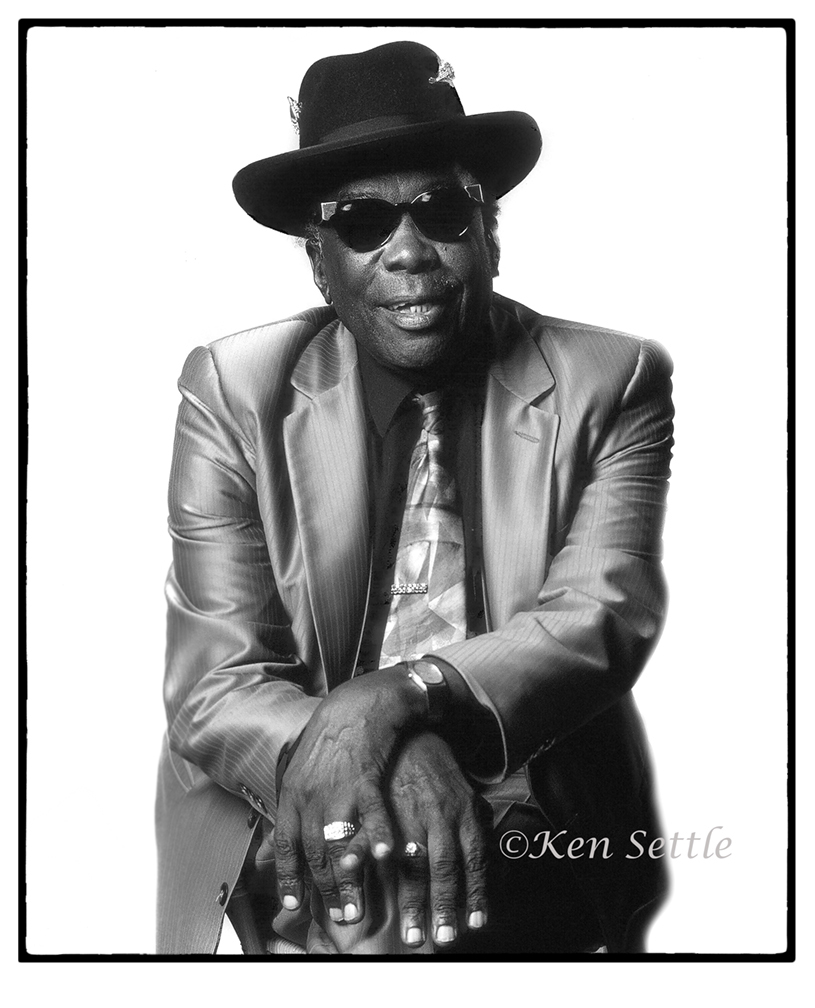 John Lee Hooker (August 22, 1912 or 1917 – June 21, 2001) was an American blues singer, songwriter, and guitarist. The son of a sharecropper, he rose to prominence performing an electric guitar-style adaptation of Delta blues. Hooker often incorporated other elements, including talking blues and early North Mississippi Hill country blues. He developed his own driving-rhythm boogie style, distinct from  1930s–1940s piano-derived boogie-woogie. 
Some of his best known songs include "Boogie Chillen'" (1948), "Crawling King Snake" (1949), "Dimples" (1956), "Boom Boom" (1962), and "One Bourbon, One Scotch, One Beer" (1966). Several of his later albums, including The Healer (1989), Mr. Lucky (1991), Chill Out (1995), and Don't Look Back (1997), were album chart successes in the U.S. and UK. 
The Healer (for the song "I'm In The Mood") and Chill Out (for the album) both earned him Grammy wins as did Don't Look Back, which went on to earn him a double-Grammy win for Best Traditional Blues Recording and Best Pop Collaboration with Vocals (with Van Morrison). Hooker was ranked 35 in Rolling Stone's 2015 list of 100 greatest guitarists.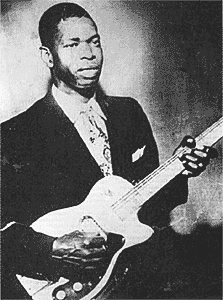 Elmore James (January 27, 1918 – May 24, 1963) was an American blues guitarist, singer, songwriter and bandleader. He was known as "King of the Slide Guitar" and was noted for his use of loud amplification and his stirring voice. For his contributions to music, James was inducted into the Rock and Roll Hall of Fame in 1992.
James's interest in playing music reportedly began at an early age. According to Robert Palmer in Deep Blues, "Elmore taught himself to play by stringing broom wire on the wall of one of their cabins, and by the time he was nineteen, he was a reasonably competent young blues guitarist." According to other sources, his first "guitar" was fashioned out of strings and an old lard can when he was twelve. Like other young boys in rural Mississippi, he learned to play guitar on an instrument made from spare materials at hand. While in Chicago, James put together a four-piece band that became known as the Broomdusters. The group included saxophonist J. T. Brown, drummer Odie Payne, Jr., and pianist Johnny Jones. This quartet, with a few changes and additions over the years, remained together for most of the 1950s. James had successfully adapted the Delta sound to an ensemble format that featured keyboards and horns. As Palmer wrote, "The music didn't change much during this time, but it didn't really have to. The Broomdusters rocked harder than any other Chicago blues band."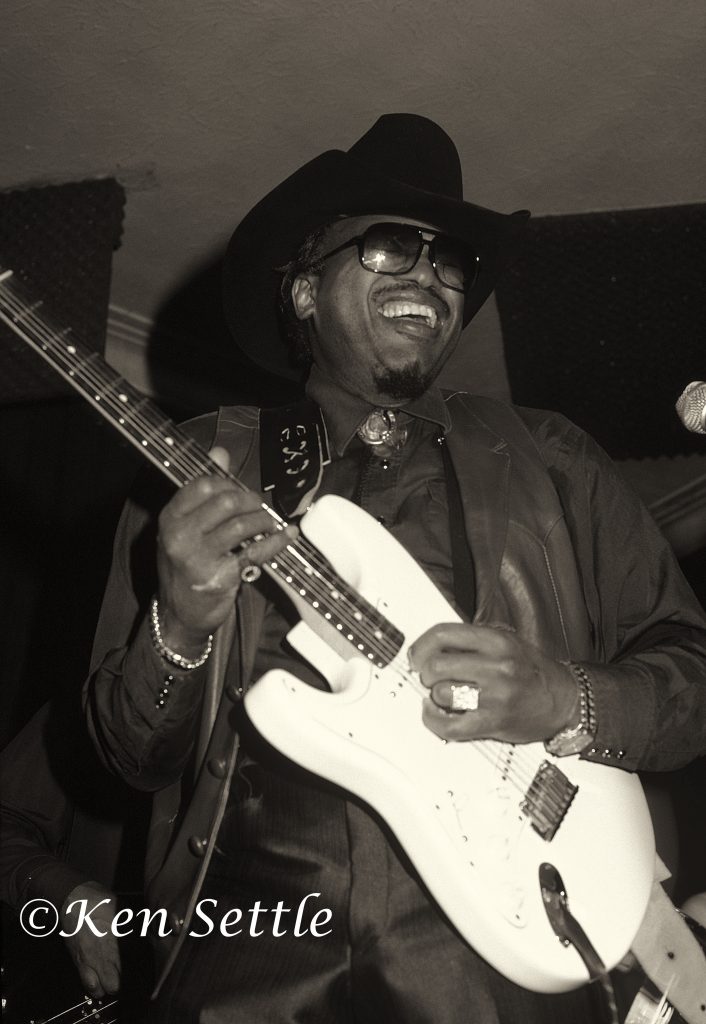 Otis Rush was born near Philadelphia, Mississippi in 1934. Rush moved to Chicago, Illinois, in 1948/49 and after being inspired by Muddy Waters made a name for himself playing in blues clubs on the South and West Side of the city. During this period he formed his own group, initially under the name Little Otis. From 1956 to 1958, he recorded for the independent label Cobra Records and released eight singles, some featuring Ike Turner or Jody Williams on guitar. In 1956, his first single,  "I Can't Quit You Baby",  reached number 6 on the Billboard R&B chart. During his tenure with Cobra, he recorded some of his best-known songs, such as "Double Trouble" and "All Your Love (I Miss Loving)".
Rush was elected to the Blues Hall of Fame in 1984. In 2015, Rolling Stone ranked Rush number 53 on its 100 Greatest Guitarists list. The Jazz Foundation of America honored Rush with a Lifetime Achievement Award on April 20, 2018 "for a lifetime of genius and leaving an  indelible mark in the world of blues and the universal language of music."
Harpists ( Harmonica Players)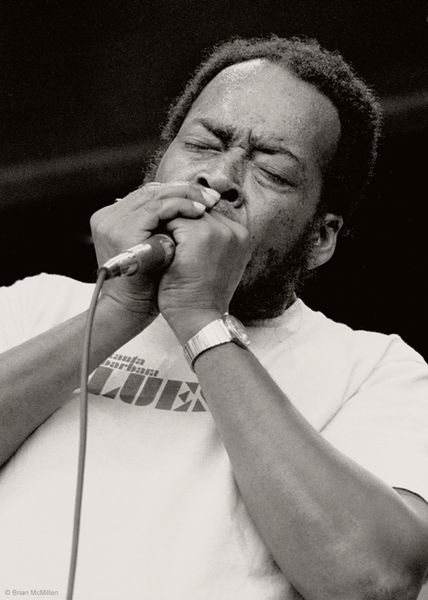 James Henry Cotton (July 1, 1935 – March 16, 2017) was an American blues harmonica player, singer, and songwriter, who performed and recorded with many of the great blues artists of his time and with his own band. He played drums early in his career but is famous for his harmonica playing.
Cotton began his professional career playing the blues harp in Howlin' Wolf's band in the early 1950s. He made his first recordings in Memphis for Sun Records, under the direction of Sam Phillips. In 1955, he was recruited by Muddy Waters to come to Chicago and join his band. Cotton became Waters' bandleader and stayed with the group until 1965. In 1965 he formed the Jimmy Cotton Blues Quartet, with Otis Spann on piano, to record between gigs with the Muddy Waters band. He eventually left to form his own full-time touring group.
Cotton played on multiple Grammy award winning albums, such as Live from Chicago: Mr. Superharp Himself! released by Alligator Records in 1984, and a second for his 1987 album Take Me Back, on Blind Pig Records. 
In 2006, Cotton was inducted into the Blues Hall of Fame at a ceremony conducted by the Blues Foundation in Memphis. He has won or shared ten Blues Music Awards.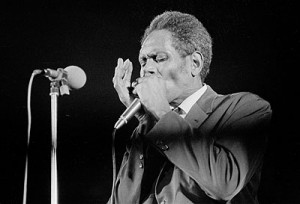 Walter Horton (April 6, 1921 – December 8, 1981), known as Big Walter (Horton) or Walter "Shakey" Horton, was an American blues harmonica player. A quiet, unassuming man, he is remembered as one of the premier harmonica players in the history of blues. Willie Dixon once called Horton "the best harmonica player I ever heard." Robert Palmer named him as "one of the three great harmonica soloists of modern blues", with the two others being cited as Little Walter and Sonny Boy Williamson II.
Horton was active in the Chicago blues scene during the 1960s, as blues music gained popularity with white audiences. He was renowned for his unique tongue-blocking techniques and tone.
Horton is famous for his innovative contributions to the music of Memphis and Chicago. His technique and tone continue to be studied and emulated by harmonica players around the world and he was heralded as one of the most brilliant and creative musicians ever to play the harmonica.
Horton was posthumously inducted into the Blues Hall of Fame in 1982. In 2008, Horton was honored with a marker on the Mississippi Blues Trail in Horn Lake.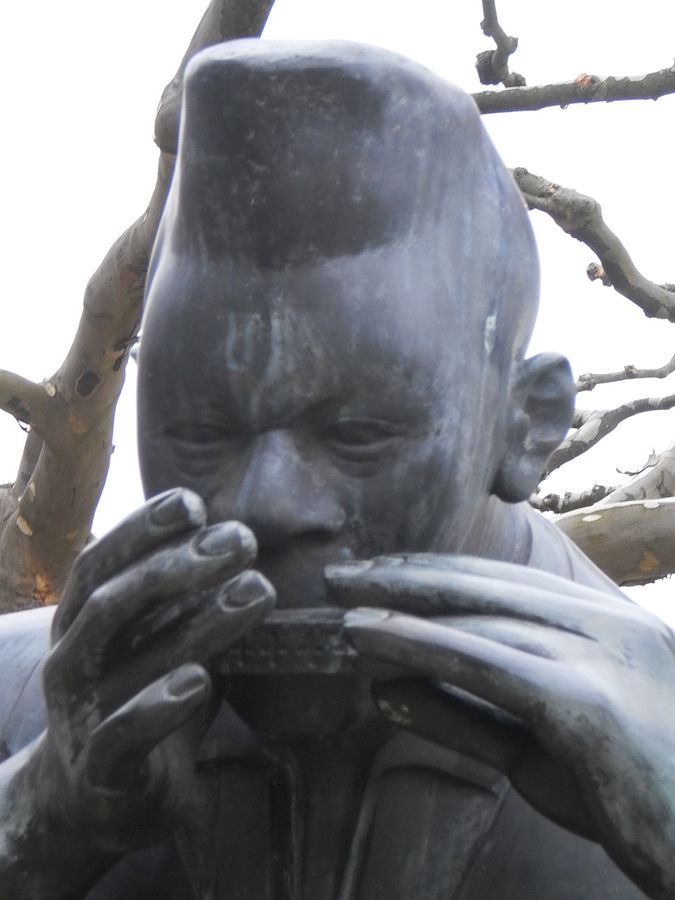 Marion Walter Jacobs (May 1, 1930 – February 15, 1968), known as Little Walter, was an American blues musician, singer, and songwriter, whose revolutionary approach to the harmonica had a strong impact on succeeding generations, earning him comparisons to such seminal artists as Django Reinhardt, Charlie Parker and Jimi Hendrix.
Arriving in Chicago in 1946, he occasionally found work as a guitarist but garnered more attention for his already highly developed harmonica playing.  Jacobs, reportedly frustrated with having his harmonica drowned out by electric guitars, adopted a simple but previously little-used method: He cupped a small microphone in his hands along with his harmonica and plugged the microphone into a public address system or guitar amplifier. He could thus compete with any guitarist's volume. However, unlike other contemporary blues harp players, such as Sonny Boy Williamson I and Snooky Pryor, who had also begun using the newly available amplifier technology around the same time solely for added volume, Little Walter purposely pushed his amplifiers beyond their intended technical limitations, using the amplification to explore and develop radical new timbres and sonic effects previously unheard from a harmonica or any other instrument. In a short biographical note on Little Walter, Madison Deniro wrote that he was "the first musician of any kind to purposely use [sic] electronic distortion."
His virtuosity and musical innovations fundamentally altered many listeners' expectations of what was possible on blues harmonica. He was inducted into The Rock and Roll Hall of Fame in 2008, the first and, to date, only artist to be inducted specifically as a harmonica player.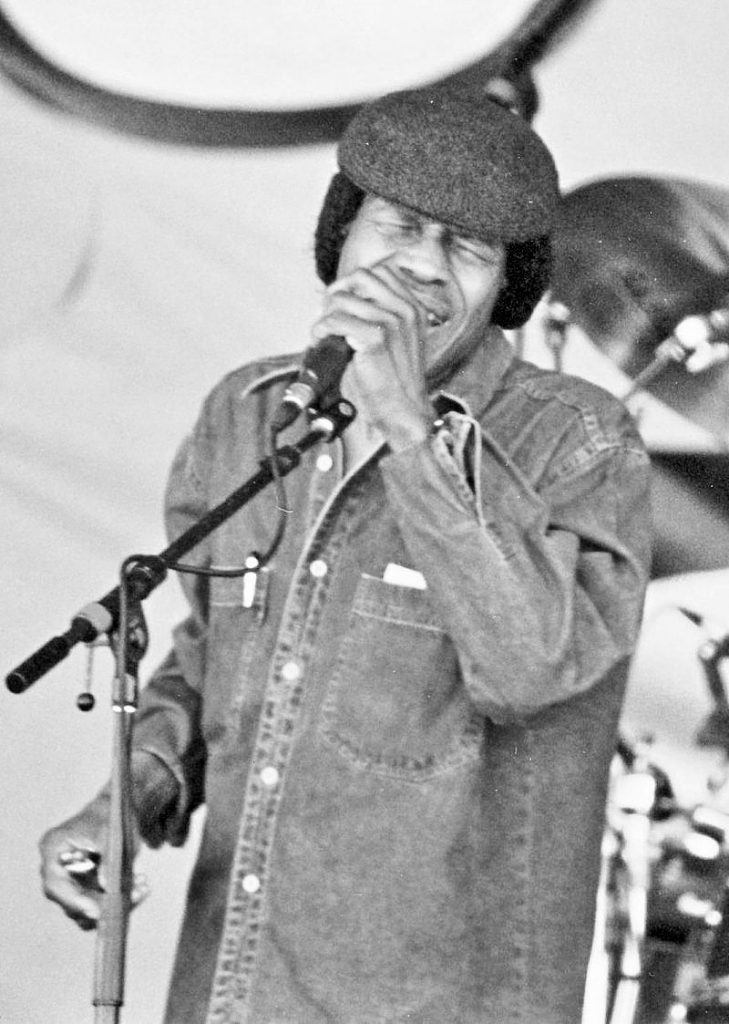 Junior Wells (born Amos Wells Blakemore Jr., December 9, 1934 – January 15, 1998) was an American singer, harmonica player, and recording artist. He is best known for his signature song "Messin' with the Kid" and his 1965 album Hoodoo Man Blues, described by the critic Bill Dahl as "one of the truly classic blues albums of the 1960s". Wells himself categorized his music as rhythm and blues.
He moved to Chicago in 1948 with his mother and began sitting in with local musicians at house parties and taverns. Wild and rebellious but needing an outlet for his talents, he began performing with the Aces, consisting of the brothers Dave and Louis Myers on guitars and the drummer Fred Below, with whom he developed a modern amplified harmonica style influenced by Little Walter. In 1952, he made his first recordings when he replaced Little Walter in Muddy Waters' band and played on one of Waters' sessions for Chess Records in 1952.
Wells performed and recorded with various notable blues musicians, including Muddy Waters, Earl Hooker, and Buddy Guy. He remained a fixture on the blues scene throughout his career and also crossed over to rock audiences while touring with the Rolling Stones. Not long before Wells died, the blues historian Gerard Herzhaft called him "one of the rare active survivors of the 'golden age of the blues'
photo by Masahiro Sumori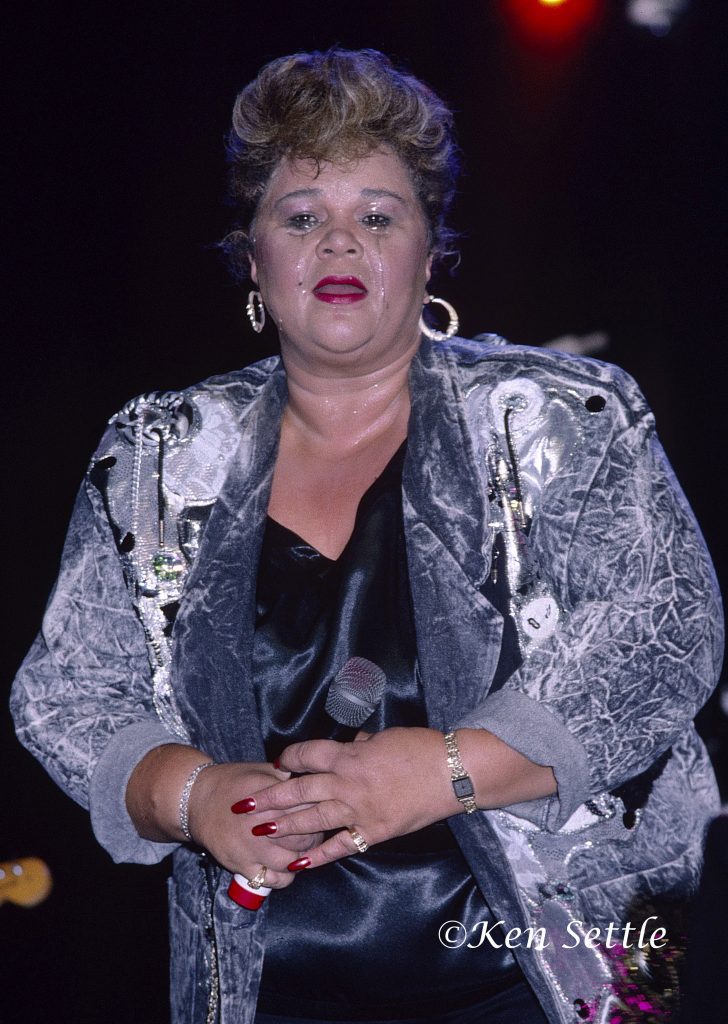 Jamesetta Hawkins (January 25, 1938 – January 20, 2012), known professionally as Etta James, was an American singer who performed in various genres, including blues, R&B, soul, rock and roll, jazz, and gospel. Starting her career in 1954, she gained fame with hits such as "The Wallflower", "At Last", "Tell Mama", "Something's Got a Hold on Me", and "I'd Rather Go Blind.
James's deep and earthy voice bridged the gap between rhythm and blues and rock and roll. She won six Grammy Awards and 17 Blues Music Awards. She was inducted into the Rock and Roll Hall of Fame in 1993, the Grammy Hall of Fame in 1999, and the Blues Hall of Fame in 2001. Rolling Stone magazine ranked James number 22 on its list of the 100 Greatest Singers of All Time; she was also ranked number 62 on its list of the 100 Greatest Artists of All Time.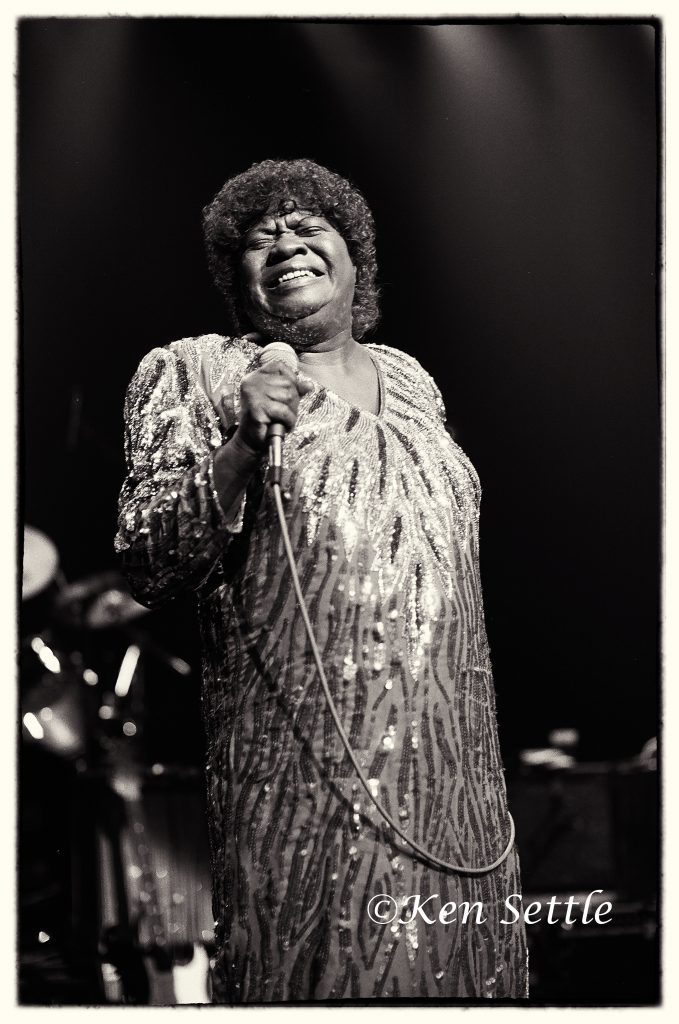 Koko Taylor (born Cora Anna Walton, September 28, 1928 – June 3, 2009) was an American singer whose style encompassed Chicago blues, electric blues, rhythm and blues and soul blues. Sometimes called "The Queen of the Blues", she was known for her rough, powerful vocals.
Born on a farm near Memphis, Tennessee, Taylor was the daughter of a sharecropper. She left Tennessee for Chicago in 1952 with her husband, Robert "Pops" Taylor, a truck driver  In the late 1950s, she began singing in blues clubs in Chicago. She was spotted by Willie Dixon in 1962, and this led to more opportunities for performing and her first recordings. In 1963 she had a single on USA Records, and in 1964 a cut on a Chicago blues collection on Spivey Records, called Chicago Blues. In 1964 Dixon brought Taylor to Checker Records, a subsidiary label of Chess Records, for which she recorded "Wang Dang Doodle", a song written by Dixon and recorded by Howlin' Wolf five years earlier. The record became a hit selling a million copies and reaching number four on the R&B chart and number 58 on the pop chart in 1966.